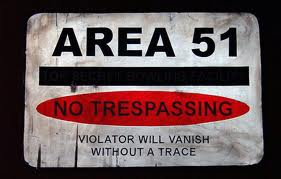 Area 51 is a military base, and a remote detachment of Edwards Air Force Base.
It is located in the southern portion of Nevada in the western United States, 83 miles (133 km) north-northwest of downtown Las Vegas. Situated at its center, on the southern shore of Groom Lake, is a large military airfield. The base's primary purpose is to support development and testing of experimental aircraft and weapons systems.
In the Movie Super 8
Edit
Apparently the derailed train was loaded with material coming from Area 51. The big question is what's in it? And perhaps more importantly, why?
Ad blocker interference detected!
Wikia is a free-to-use site that makes money from advertising. We have a modified experience for viewers using ad blockers

Wikia is not accessible if you've made further modifications. Remove the custom ad blocker rule(s) and the page will load as expected.